Log in to the vCenter server where your

SIOS

iQ appliance is located (log in to the VMware Web Client, connect to the vCenter server, and locate the

SIOS

iQ appliance)
Right Click on the appliance VM and Click Shut Down Guest OS > Select Yes on the confirmation dialog
Once the appliance VM has completely shut down > Right Click on the appliance VM again
Click Edit Settings
Expand the

CPU

properties
Change the

CPU

s to 4 and change the Cores per Socket to 2 (Sockets should equal 2)
Collapse the

CPU

settings
Change the VM memory to 16GB (16384MB)
Click OK
Right Click on the appliance VM and Click on Power On


For version 2.0.3 and later SIOS iQ automatically checks for software updates every 15 minutes. If an update is available SIOS iQ automatically downloads the update and the Settings icon in the upper right corner of the user interface will appear red.
Before updating the SIOS iQ appliance it is highly recommended that a snapshot be performed. Performing a snapshot before an appliance update provides an extra layer of assurance should something unexpected occur. Refer to Understanding virtual machine snapshots in VMware ESXi and ESX for details on creating a VMware snapshot of the appliance. Complete a successful snapshot and continue with the update.
Click on Manage Updates to install the update.
Then, click on Install Update.
Once satisfied that the appliance update was successful, delete the created snapshot.
Manual Update
In the event that SIOS iQ is unable to check for updates due to Internet access issues, follow these steps to manually download the latest update:
Download the

SIOS

iQ upgrade bundle on a system with Internet access:
Once the download is complete go to the appliance and click on Settings icon > Manage Updates. Then select the Browse for Update button and select the file (this could take several minutes).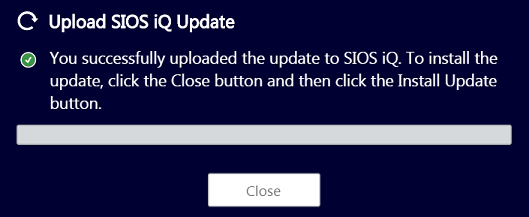 Click Close once the upload is complete.
Select the Install Update button.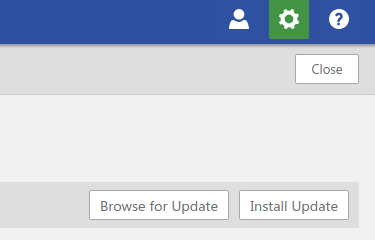 Then Click on the Install Now in the dialog box.


Once the update is successfully installed click the Close button and login to the system.

Feedback
Thanks for your feedback.