The SIOS PERC Topology is an innovative dashboard that breaks new ground in the visualization of infrastructure operations. Unlike the SIOS PERC Dashboard™, the PERC Topology dashboard renders complex infrastructure behaviors in a clear, condensed form that enables users to readily comprehend the overall health of their environments and clusters.
The dashboard gauges, or "Pies", give IT instantaneous access to the operating status across four key service dimensions: Performance, Efficiency, Reliability and Capacity utilization. In addition, SIOS PERC Topology dashboard provides a view into all of the Events from other monitoring tools (infrastructure, application, etc.) in the environment that can be signaled to iQ to perform analysis and correlation via the Signal iQ API (see Signal iQ API for more information). Moreover, through the further breakdown of status by selected environments and color-coded severity (into actionable Pie sections), they enable comparative analysis and interactive exploration of infrastructure issues at every level of granularity with a single click.
The Topology Pies, described in detail below, can be filtered by environments of interest, time frame (30 days, 7 days, or 24 hours), and issues (all or In Progress). Each Pie section has a tooltip (indicating the precise number of associated issues) and is actionable, so that one click takes the user to the filtered list of selected issues.
The
PERC

Topology Pie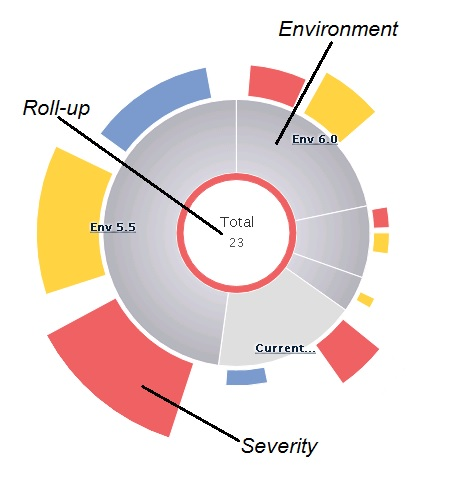 Environment – Each gray Pie section, sized in proportion to the relative number of associated issues, corresponds to a particular environment. Darker grey environments represent clusters contained within the environment. Click on the darker grey environment sections to drill down to the cluster level.
Severity – Three bars – colored by issue severity and sized in proportion to the relative number of associated issues – indicate the Critical, Warning, and Information issues (positioned clockwise) associated with each environment or cluster.
Roll-up – The center of each Pie provides the total number of issues across all selected environments or clusters, and its colored ring indicates the high level roll-up of the issue severity.
Feedback
Thanks for your feedback.