Overview
Leveraging principles from Machine Learning and Topological Behavior Analysis, the Performance Forecasting Dashboard (Not Available in SIOS iQ free edition) provides the user with a 7-day forecast of the Compute Performance Issues that will arise due to the environment configuration. Specifically, the compute resources (CPU and vMemory) configured on the hosts are consistently stressed by varying workloads running on the VMs that, therefore, have the collective potential to impact performance in the current infrastructure due to resource overprovisioning. These workloads exhibit behavioral trends that are characterized via SIOS iQ's machine learning analytics and then leveraged to predict precise time frames in which hosts are expected to experience Compute Performance Issues. The Performance Forecasting Dashboard presents a daily visual overview of these predicted issues in a concise format, providing the user with a 7-day forecast at a glance. Accompanying the 7-day forecast are an Issue list and a Preview pane that together enable individual issues for a selected future date to be examined in greater detail.
Dashboard Components
The Dashboard contains the following components:

7-Day Forecast – daily forecast tiles, which display:

The future week day and date
The number of issues predicted to occur on the selected date
A ring whose color indicates the relative number of performance issues predicted, given the current environment configuration (green, yellow, orange, or red, in increasing severity)

Issue List – the list of predicted Performance issues for the selected day
Preview Pane – a preview of the selected issue having the following tabs:

Details – provides a snapshot overview of the issue, including thumbnail graphs of the symptom and object topology, issue type (Workload

CPU

/Memory) and details, time frame(s) where the issue is predicted to occur, and recommendations to address the issue
Impact Analysis – shows the root cause and impacted objects (host, VMs) related to the predicted issue. The List View provides a summary list of the impacted object(s), while the Topology View provides an interactive graphical representation of the relationships among these objects.
Symptoms – provides information about the symptom(s) associated with this issue. The graph provides an overlay of the predicted time frame(s) associated with this issue.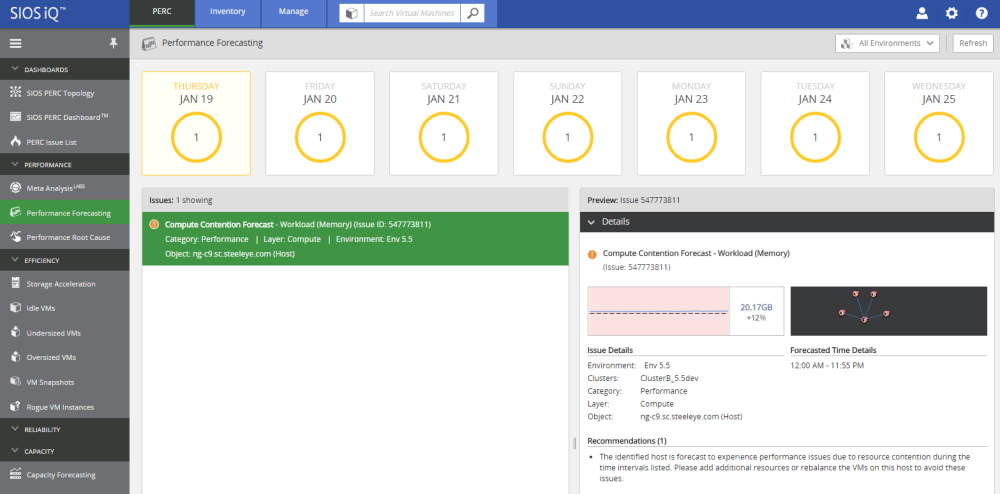 The Compute Contention Forecast Issue
Severity
Root Cause
Type
Layer
Symptoms
Impacted Objects
VM(s)
Compute Contention Forecast
Compute
Workload (

CPU

/Memory)
Host
What does that mean? And what should I do with this information?
This Warning issue indicates that a host has been predicted to experience performance issues within the next 7 days. The following recommendation is provided:
Recommendation:

The identified host is forecast to experience performance issues due to resource contention during the time intervals listed above. Please add additional resources or rebalance the VMs on this host to avoid these issues.
Feedback
Thanks for your feedback.